We, the Eby family, are members of Paradise Mennonite Church. You are welcome to join us in our worship services.
The History of Paradise Mennonite Church
Paradise Mennonite is the oldest church in Paradise township, having been built in 1806, and rebuilt in 1885. The church was enlarged in 1909, with alterations and inter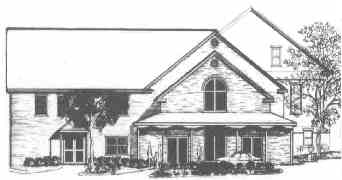 ior refurnishing in 1968. A major addition was completed in 1987. Land for the original building was given by David Witmer, granting "land opposite my schoolhouse to the Mennonite Society gratis forever, for the purpose of building on it a house of worship for the said society." Our church is evangelical, growing out of the free church movement of the 16th century. The name "Mennonite" is derived from one of the major Dutch Anabaptist leaders, Menno Simons
Mennonite Beliefs
We believe in one God eternally existing as Father, Son, and Holy Spirit. We believe the Bible is God's inspired Word to man, the truth, authority, and guide for daily living. We believe that Jesus Christ, God's only Son, is the one mediator between God and man, that He died to redeem us from sin and arose for our justification. We believe that salvation is by grace through faith in Christ, a free gift bestowed on all who repent and believe. We believe that those who repent and believe should be baptized with water as a symbol of baptism with the Holy Spirit, cleansing us from sin, and commitment to Christ. We believe that the Church is a fellowship of born-again Christians who meet together for worship, praise, teaching, and preparation for witness. We believe that at death the unsaved enter into everlasting punishment and the saved into conscious bliss with Christ, who is coming again, and will raise the dead, sit in judgment, and bring in God's everlasting Kingdom.
Community Bible Church of Gordonville